Surgical Services
Wilson Health offers a wide variety of surgical services with highly qualified staff and state-of-the-art facilities and equipment, close to home. Some of the surgeries performed at Wilson are done as inpatients, but most are done on an outpatient basis.
This means the patient comes to the hospital the morning of surgery and goes home the same day. On average, Wilson's Surgical Services Department performs more than 4,000 inpatient and outpatient surgeries and other procedures annually in the fields of gynecology, orthopedics, ophthalmology, general surgery, ear, nose and throat surgery, urology, podiatry, plastic surgery and endoscopy, as well as radiology interventional procedures.
Our Surgical Services Department is staffed by board-certified surgeons and anesthesiologists, highly skilled registered nurses, surgical technologists, medical assistants and X-ray technologists. The staff and volunteers help create a special environment, one in which each patient is greeted and cared for in a personal, respectful way.
What Should I Expect When I Have Surgery at Wilson Health?
At Wilson, a person is typically scheduled for surgery by their physician. They may be asked to come to the hospital a few days before their surgery to pre-register and to receive pre-operative instructions and testing from a nurse. The nurse may conduct a phone interview to obtain a short medical history and explain the surgical routine to the patient. Because our patients are often our neighbors and friends, sometimes even our relatives, we understand what surgery can mean to you and how important our role is in achieving a successful outcome. The extra time and care we invest in planning and performing each surgery helps increase the likelihood of a successful outcome and recovery.
Surgical Suites
The surgical suites offer medical staff advanced technology in a fully integrated operative environment, which in turn offers patients quality and efficient care. Medical equipment is built-in from the walls and ceilings allowing centralized access for physicians. Patient information such as digital X-rays, CT scans, and other images are viewed on flat-panel monitors providing high-resolution images and eliminating the use of traditional X-ray films. The surgical staff has access to real-time medical information, such as patient electronic medical records and lab results that may need to be referenced during surgery. Fetal monitoring is also accessible for OB/GYN physicians who need to monitor patients in Wilson's Family Birth Center.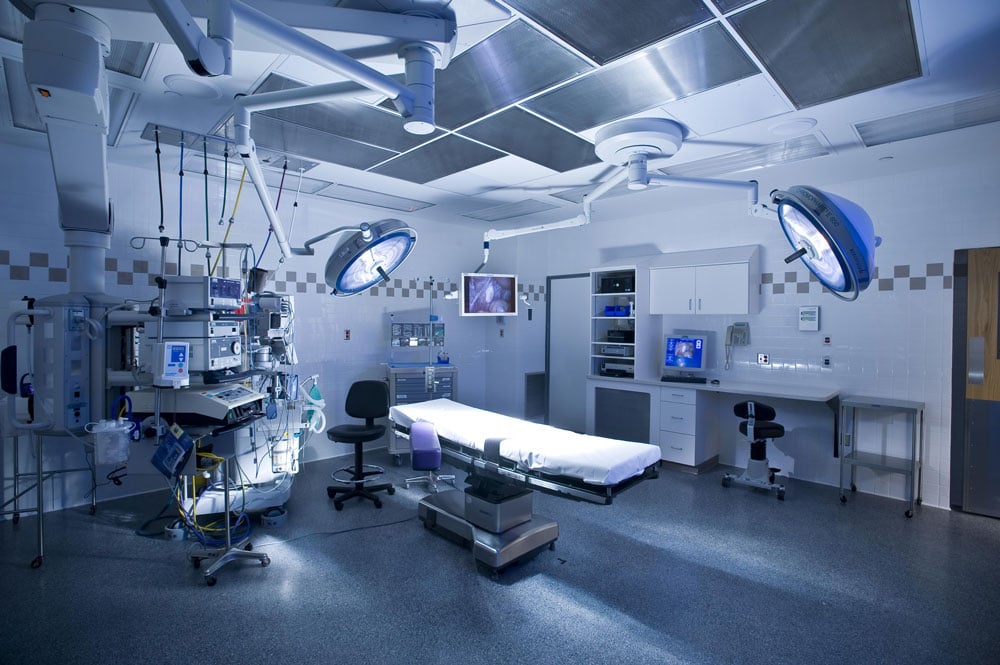 Interventional Radiology Lab (IRL)
The Interventional Radiology Lab at Wilson Health specializes in minimally invasive procedures that help create better blood flow in patients with arterial blockage.
Digital Subtractor Angiography
, the "Gold Standard" for vascular imaging, is used to identify areas of decreased arterial blood flow. Procedures used to open these areas include Balloon Angioplasty, mechanical removal of the plaque utilizing small catheters with special tips and vascular stenting, in which a small wire mesh tube is permanently placed in the artery or vein to help it remain open and increase blood flow. The most common medical condition treated at Wilson's Interventional Radiology Lab is
Peripheral Vascular Disease (PVD)
, or narrowing of the arteries in the legs or arms. Cardiac irregularities are also treated at Wilson's IRL. Pacemakers or Internal Cardiac Defibrillators are surgically implanted into patients using minimally invasive techniques. Typically, patients are able to return home and back to normal activities within hours.
Same-Day Surgery (SDS)
Same-Day Surgery (SDS), also referred to as Outpatient Surgery, provides a convenient and comfortable environment for patients who will be in and out of the hospital in the same day. At Wilson Health, SDS patients will have their own private room along with a separate exit for additional patient privacy.
SDS Procedures Include:
Laparoscopic Gall Bladder Removal

Colonoscopy

Hernia Repair

Hemorrhoidectomies

Ovarian Cystectomies

Gastroscope

Laparoscopic Surgery for Endometriosis

Breast Biopsy

Tubal Ligation

Carpal Tunnel Surgery

Knee Arthroscopy

Tonsillectomy

Ear Tubes

Hysterectomy and Urinary Incontinence Repair
Post-Anesthesia Care Unit (PACU)
Often referred to as the "Wake Up Room," the PACU is where patients recover from anesthesia after surgery. In the PACU, patients are closely monitored and when stable are taken to their hospital room or their Same-Day Surgery private room until cleared for dismissal.
Sterile Processing
Sterile Processing ensures that all medical/surgical equipment is sterilized for patient care. Sterile Processing is divided into four major areas: Decontamination, Assembly and Sterile Processing, Sterile Storage, and Distribution. It takes approximately 2 hours for each medical instrument to be processed through Sterile Processing.